Going beyond IT: e-Jan baseball team
When you think of a Japanese IT company, many people would generally think of suited people working hard day and night to complete their tasks or drinking till they drop on weekend.
Our company, e-Jan is slightly different in the terms of we challenge new things.
So, when an opportunity to participate in an inter-company baseball tournament came up,
some people took initiative to make the arrangements and try ours luck.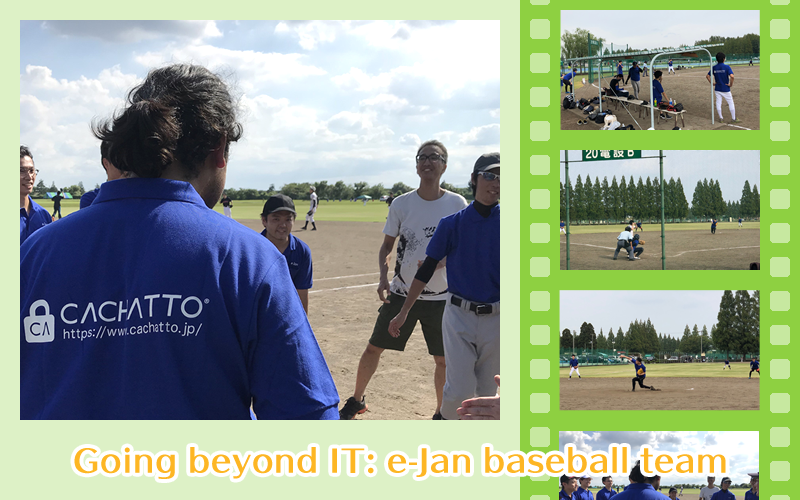 Mr. H, the team captain, took the initiative to assemble a team and Mr. K, a passionatebaseball player, took the initiative to arrange some practice sessions for the team with his owned team. In the times of COVID and teleworking, where people are cautious about going out or gathering at crowded places, their participation was very well appreciated. Therewere people who have not played baseball since high school or university, who have not played baseball at all and even a foreigner, but ultimately e-Jan baseball team was formed.
Our first match was a bye. So, our first real match got scheduled in the month of September, which we won very comfortably at 20-2. Everyone scored. Mr. K had an inside the park home run. It was a great win. We were in best of 16. Enthusiastically, we were waiting for next weekend for out next match which was repeatedly got postponed due to rain. It was only after about a month that the forecast was good to go. But then, our opponent team backed out of tournament and now we were in best of 8. Progressing like this feels incorrect as a sportsman but there was nothing we can do and could only look ahead.
Another good weekend and the play for best of 8 started on time. And honestly, we could feel the heat in our first inning itself after 3 consecutive strikeouts. Though the other team score 2 runs in the first inning, our pitcher Mr. N and Mr. Y did a commendable job by not conceding any runs till 4th inning. But again, we were also not able to score any. At the fifth inning, they scored 5 runs and brought the score to 0-7 and we failed to score any, the
refrees decided to call off the match on the basis of score difference.
If you ask me what the outcome of the match was, I would not think of the 0-7 score or calling off the match. For me it's the smile on everyone's face which itself expressed the sense of acceptance, satisfaction and achievement. Sports teaches you the spirit of competition, the sense of achievement and a lesson to work on after your defeat.
All the members appreciated Mr. K and Mr. H for the arrangements.
The next working day, it was announced by Mr. H to the members that he, with Mr. K, will try to arrange some practice sessions even in the future which would be open to all and close to company for convenience. I am not sure what future holds for this team, but I am sure of one thing, it's a start of something new.
Writer:
AB