牛久大仏 (Ushiku Daibutsu)
This week's post is by a guest writer, a Japanese employee 'Y.T.', and translated into English by 'N.M.'. The post is an introduction to the Ushiku Daibutsu, a famous Buddha statue in 'Y.T.''s home prefecture.
Enjoy!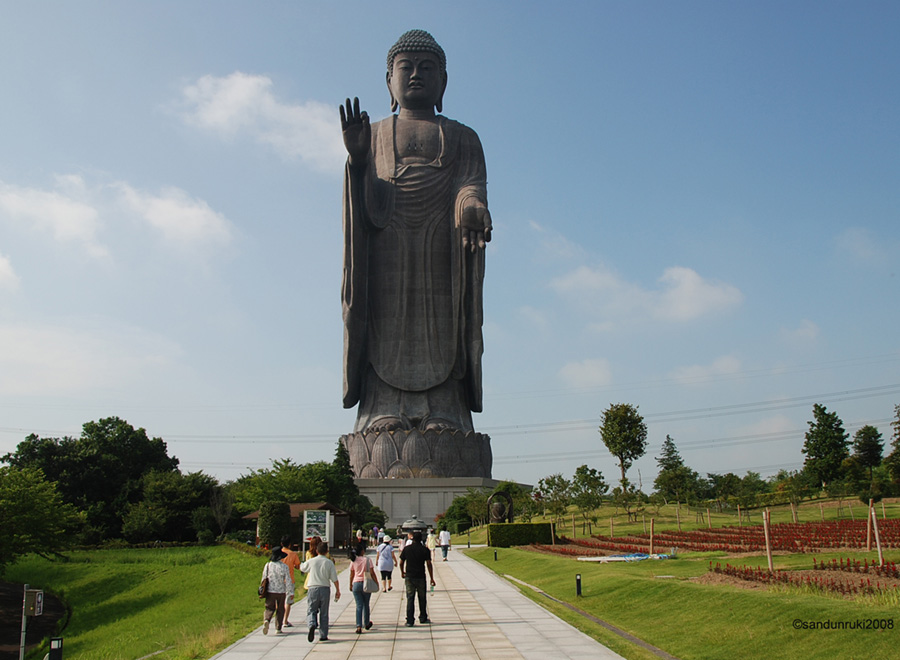 牛久大仏について
茨城県牛久市にある「牛久大仏」は立像としては世界3位。
1995年には世界一の青銅製立像(ブロンズ)としてギネスに認定されました。
その大きさは全長120mにもなり、世界文化遺産に登録されている
アメリカの「自由の女神」よりも3倍の高さがあります。
大仏の足の親指だけでも人間より大きいです。
大仏の中は展望台になっており、天気が良ければ60km程離れている
「東京スカイツリー」を見ることができます。
他にも大仏の中には金色に光る約3000体の仏像があったり、
写経体験(習字すること)を無料で行えます。
牛久大仏は中だけではなく周りも非常に充実しています。
例えば小動物公園があり、リスやウサギに餌やりをすることも出来ますし、
タイミングが合えば猿の曲芸も見ることが出来ます。
約2万平方メートルのお花畑では春には満開の桜、秋になるときれいなコスモスが咲きます。
仲見世、食事処などもあり、お土産を買ったり一休みすることも可能です。
大仏を見た後は車で少し行ったところにアウトレット施設もあるので、ショッピングを楽しめます。
牛久大仏は年を越すタイミングに色が変化したり、大仏の下から光が出たり、
約100にも及ぶ花火が打ち上がります。
まるで大仏が爆発しているかのような迫力です。
実は牛久大仏がある茨城県はある日本企業の調査結果によると
悲しいことに日本で一番魅力がない県だそうです。(2013-2017年の5年連続)
しかし、牛久大仏を筆頭に非常に面白い場所がたくさんありますので、
興味のある方は是非足をお運びください。
- Y.T. (Japan)
=================
The Ushiku Daibutsu in Ibaraki Prefecture is the third tallest statue in the world. It was recorded in the Guinness Book of World Records in 1995 as the tallest bronze statue in the world. It stands at a height of 120m, roughly three times the size of America's Statue of Liberty. The Buddha statue's big toe itself is larger than a human adult.
Inside the Buddha statue there is an observation deck, and on clear days it offers a view of the Tokyo Skytree located 60km away. Also inside the Buddha statue are around 3000 smaller golden buddhas, and free sutra calligraphy lessons are offered for free.
The area outside of the Ushiku Daibutsu is also full of things to do; there is a petting zoo where one can pet and squirrels and rabbits, and sometimes there are also monkey shows. There is also 20,000 square meter flower garden, with cherry blossoms in full bloom in the spring, and beautiful cosmos flowers in the fall.
In the nakamise, the shopping street in the precincts of the shrine, there are rest stops with food and gift shops. After visiting the Ushiku Daibutsu, it is also possible to enjoy some shopping at the outlet mall located only a short car ride away.
On New Year's Eve, the Ushiku Daibutsu changes color, and is illuminated with spotlights as about 100 fireworks are set off. It's as though the Buddha is exploding!
Actually, Ibaraki Prefecture that hosts the Ushiku Daibutsu was ranked in a study as the least exciting prefecture for 5 consecutive years (2013-2017). However, including the Ushiku Daibutsu there are plenty of fun and interesting places, and I strongly encourage those interested to visit.
- N.M. (U.S.A.)